7 Secrets to Make Men's Clothing Look Amazing!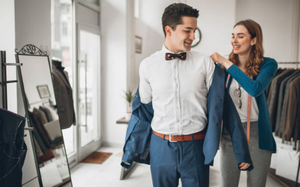 Have you ever come across a guy who always looks dapper, suave, and confident no matter what the occasion is? We're sure you have; in fact, most of us have at least one such man in our extended family or friends. But do you know how such men manage to look so appealing and hit the bull's eye every single time? Well a lot of it is courtesy of what they wear!
A sophisticated man always makes sure to put in a lot of thought in his outfits, be it the major decisions like the style and cut or the intricate details like accessories and color combinations. He leaves no stone unturned when it comes to selecting in the right clothes (and the perfect mens dress shoes) according to the occasion, and thus, he always slays with his looks. And though we might not realize it until we come across someone like that, but building a fashion statement and looking up to that mark isn't a piece of cake. It needs a lot of dedication, style awareness, and grasp of the tiny bits. After all, not everybody gets to be in the spotlight, right?!
Would you like to be included in this list of ever-stylish, ever-dapper men? We're sure you would, and that's why we've compiled these 7 tips for picking the ultimate men's clothing that will help you look effortlessly stylish and make heads turn in a room full of people. Get your pens and papers 'coz you gotta take some notes.
Don't dress to impress
While stylish people are known to keep a close eye on the new market trends and combinations, when it comes to selecting their clothes, they tend to stick to ensembles they can carry comfortably. Following ongoing fashion trends might look cool, but a purely stylish vibe comes from your inner confidence which reflects only when you've dressed as per your body type and comfort level. Therefore, always stick to outfits that make you feel at ease at social gatherings. Hasn't anyone ever told you that the most attractive thing a person can wear is his confidence?
Plan your outfits in advance
Planning and keeping your outfits ready a few hours in advance can save you from the last minute panic. Ideally, you should decide what you're going to wear, check if the clothes are clean and ironed, and arrange the accessories and shoes one night in advance. Staying prepared can help you avoid unintentional styling mistakes (like the improperly matched tie or the oddly picked footwear). If you have everything ready beforehand, all you have to do is hop out of the shower and put the clothes on; that's it, you're good to go for the day!
Consult pictures of your previously hit outfits
Dressing according to the event is extremely important. You wouldn't want to look over or under dressed at a party. So what can help you stay balanced? Your phone's camera, of course! Shoo away thoughts of vanity, and remember to click pictures of all the outfits you've sported at different kinds of events – formal, casual, or a mix of both. Then if you just can't decide, simply scroll through your phone gallery, choose an outfit that has worked in the past, and Voila! Try it and let us know if this tip was helpful (and don't forget to click the latest snap too).
Browse fashion catalogs and shop online when you can
If you're a fashion enthusiast but often struggle when finding the perfect clothes, this tip will change the game for you (forever). There are several websites out there which provide professional men's clothing catalogs and photo-shoots. Browsing through these high definition pictures and picturing yourself wearing such clothes can drastically help you in better understanding your personal style as well as improving your fashion sense. The people in such pictures are styled by professional fashion designers, and you can grab some awesome styling tips from them. If you can't find an outfit at the store near you, don't hesitate from ordering from a reliable e-commerce store. In fact, you might be able to get more variety in terms of colors, sizes, and designs online as compare to local shops. 
Keep an 'emergency shirt' ready
A sophisticated man always stands out from the crowd, even if he's wearing an old school black shirt. Ever wondered how? Well the answer is simple. He always keeps a perfectly fitting, clean and ironed shirt ready for last minute, unplanned engagements. You can't step out to shop before every event and might have to come up with an outfit within an hour's time (for on-the-go parties, for instance). Thus, try to have one or two well tailored, ironed shirts ready in your closet for such situations without compromising with your style statement. They can be total life saviors! 
Clean your footwear regularly
Even though it's often unsaid, the truth is that more often than not, the first thing a person notices in a guy is his footwear. Studies have claimed that dirty footwear is a total turn off when it comes to men. Don't make the mistake of falling in this category. Fashionable men keep their leather shoes clean irrespective of how formal or casual they are. This gives a clear indication about their lifestyle and seriousness of their fashion game.
Perfect fit
This is probably the most important tip that should never be neglected. Always choose clothes that fit you like a glove! Regardless of how expensive your coat, shirt, and trousers are; if they don't fit you well, you're money has gone down the drain. Perfectly tailored clothes make you look smart, attractive and handsome since they accentuate your body structure. So if you're a man who has been working out lately, don't forget to pick the right size of clothing. 
To Conclude
There's still a lot in the pool of fashion knowledge that one can grasp and accommodate in their lifestyle and fashion sense. But these tips will definitely help you in figuring out the perfect style. It's fairly simple to crack the right outfit. All that it requires is a little bit of knowledge and a sense of choosing the right stuff. We hope these tips will come handy for you down the line. 
Leave a comment
Comments will be approved before showing up.