Picking out the Best Chelsea Boots that elevate your style in 2021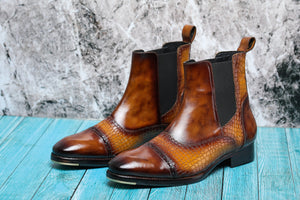 Reminiscent of the Victorian era, Chelsea boots are a must-have in the shoe collections of men having different ages and tastes. The boots have a timeless look and design, and hence, they can complement any look, be it a casual get-together or an informal function. These boots are an asset to any connoisseur of shoes, as they elevate the style quotient and make the one wearing them, the star attraction of any gathering!
Leather Chelsea Boots for Men are ideal for anyone on the lookout for simple yet elegant shoes that complement a formal as well as informal get-up at any given time. Available in light, cool suede colors and crafted from ultimate classic leather, Chelsea boots are "all-time boots." They're mostly preferred by working people as well as socialites because they are highly functional, cozy, and rank high on the fashion meter. For parties and social functions, the classic leather Chelsea boots make for the perfect choice.
If you're planning a weekend outing with your friends, don't look further than suave and comfortable Chelsea boots. We guarantee it – you won't be disappointed!
Chelsea Boots – A Background
The history of Chelsea boots dates back to the Victorian era. They were designed by Joseph Sparkes-Hall, a bootmaker during the times of Queen Victoria. The shoemaker had claimed that Queen Victoria used the boots regularly, and this was the biggest proof of their popularity. They were well-known as J. Sparkes Hall's patent "Elastic Ankle Boots," and during that period, they were a favorite for walking as well as horse-riding.
The convenience of elasticized boots was that they could be removed easily and put on again with the same ease. This fashion caught on and became a distinct style in the West until the World War began. In those times, these boots were worn by both men and women, and over the years, they earned the name "Chelsea boots" from their popularity in the Chelsea region of London during the 1950s and 1960s.
Chelsea boots were regarded as iconic elements during that period, especially in the mod scene. Back then, this style of boots was popularized by the Beatles and the Rolling Stones. But regardless of how dated they may seem, Chelsea boots are still very popular and highly in demand.
Characteristics of Chelsea Boots
Let us now take a closer at their design, which is one of the main reasons they have retained their popularity over the ages.
Captoe Chelsea Boots for Men are close-fitting, ankle-high shoes, attached with an elastic side panel. They are characterized by a loop of fabric on the back, which makes it easier to put them on. 
Comfort is the keyword when it comes to Chelsea boots. These boots are designed in such a manner that they can be smoothly put on and off. They don't come with any frills and laces, and have distinct elastic or vulcanized rubber side ankle for smooth wearing. The Chelsea boots' traditional ankle-high style is their unique trademark which makes them stand out in the plethora of boot styles available in the market. 
A Style Sheet for your Chelsea boots
Just like how Chelsea boots rocked the early ages, they rank high among the trendsetters of men's fashion even today. A design classic in the true sense of the word, Chelsea boots have over the years earned their place as icons in men's fashion.  Whether you're a newbie or a veteran in the field of fashion trends, the following style points are a must-read if you plan to wear your Chelsea boots for a friendly gathering or an important business meeting. 
Suits compliment leather Chelsea boots best:  The traditional leather Chelsea boot gives a sleek and smooth look and this "suits" the suited look the best. These boots are mostly worn as dress shoes with many formal outfits, especially when you pick them up in the classic black color. Black leather boots are the perfect accompaniment when you're choosing a formal suit to head out for that important meeting. Brown Leather Chelsea Boots are also stylish, but you can save them for semi-formal, smart casual, and business casual looks. 
Getting the casual look right: Suede Chelsea boots are best suited for all casual occasions as they appear more easy-going than traditional leather Chelseas. Available mostly in brown and classic black shades, these types of boots are a must-have if you are heading out for a weekend in the countryside. Best suited for casual and semi-casual outfits, the suede Chelsea boots are a good addition to your ever-growing shoe collection. 
An In-Depth Look into Pairing Chelsea Boots for Casual Occasions
Leather/suede Chelsea boots sit pretty with casual, smart casual, business casual and semi-formal outfits. For all different occasions, different boots complement the look. If you are interested to know more about how to get the right Chelsea boot for the right occasion, the following guidelines will be of help:
Casual: While picking Chelsea boots for a casual outing, pair up their leather or suede variety with skinny jeans, a plain white T-shirt, and a denim overcoat to complete the look. Go for the color brown as it is subtle and gives off a more relaxed appearance. 
Smart casual: Chelsea boots are highly recommended for smart casual styles, as the crisp and sleek presence of these shoes adds that extra zing to the overall appearance. Pair up everyday items like black jeans, a rollneck sweater, and a double-breasted coat with Chelsea boots to give off the casual urban vibe. 
Business casuals: Chelsea boots not only compliment your weekend outfits, they are the perfect fit for casual business meetings. To find the correct balance between the outfit and shoes, try mix and matching leather style boots with light colored Chinos, an Oxford shirt and a blazer. The final look will be a smart business one, but with a hint of casual.
Semi-formal: Generally, Oxford shoes, brogues, and loafers are the best choices for semi-formal occasions, but sometimes you can go for Chelsea boots as well. The perfect combination would be black or brown shoes to compliment a navy/brown suit for the semi-formal look; perfect for a business night out. Take note that the trousers should cover the tops of your boots for a sleek silhouette.
Things to remember before you buy Chelsea boots 
Buying Chelsea boots must be looked at like an investment, which is why there are a few things that need to be paid close attention to. 
Although Chelsea boots come with great flexibility and fitting, it's important to get the right size for yourself. It is suggested to try on the boots instead of relying on standard measurements. 
Check the features and characteristics thoroughly before the purchase, for sometimes boots with zippers are often sold under the claim of being Chelsea boots. Though there are many variations of Chelsea boots, most of them come with elastic. Thus it is important to research the model before buying them to avoid getting cheated. 
It's best to stick to leather soles for Chelsea boots, so make sure to double-check with your manufacturer. 
The quality of the elastic strap on the boots is what defines the shoe and is an integral part of the design. Make sure to check the quality of the strap, as it provides comfort and longevity to the boots. 
If you're buying a pair for uppers, opt for box calf leather or suede; it's the best option for this type of shoe. 
And we end with…
After reading the above, we hope you agree that there's no doubt about Chelsea boots being a good addition to your shoe wardrobe. These boots will elevate your style quotient by several notches. The idea is to mix and match the outfits and boots as per the occasion (formal or casual) to get the best look possible. So happy shopping!
Leave a comment
Comments will be approved before showing up.