Rules To Wear Men's Lace-up Boots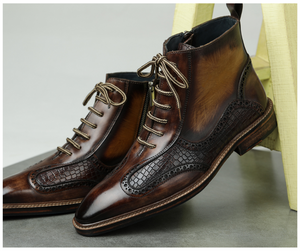 If there's one category of footgear that grabs all the eyeballs in the fashion industry, it is undoubtedly "boots." Boots are loved by people from all walks of life, from kings to warriors to cowboys. People prefer wearing this gender-neutral iconic footgear for its rigidness and vogue. Boots not just enhance the overall appearance of an outfit, but also upscale your style, and make every look alluring. 
Now when fashion trends in the clothing sector keep changing, why should boots stay the same? Every new season, various new styles keep emerging. But along with the change of flavor comes a big problem. Frequent switches in market choice often confuse fashion-mongers about the proper way to wear Mens Lace Up Boots. That said, it's never too late to learn, and that's why we've come up with this guide!
If you're looking for some help with styling your shiny new pair, well, you're at the right place. Here we've put together a rundown of some rules to keep in mind when you wish to flaunt your 'forever' trendy boots.
Rule #1 – Pick the right 'type' of boot
There's a humungous variety of boots available in the market. The criteria that differentiate them include their material and construction. So before you step out to buy a pair, give a good thought to the various options available out there. You could choose from Desert boots, Hiking boots, Chelsea boots, Brogue boots, Oxford boots, Chukka Boots, and more. 
To pick the right boot, consider the purpose you need it for and also give a thought to your personality. Boots are quite flexible and they function well for almost every occasion, from being used on a rainy day to being used by the army on the battlefield. Don't make the mistake of blindly going with the trend since you might regret your choice later. For example, the Chelsea boot makes for an amazing choice for a man who wants to have an elegant appearance. They look smooth, simple, and sleek. However, Chukka boots are far more rugged. They give off a much stronger and rough-and-tough vibe. Similarly, if you're looking for boots that go well at a formal occasion, you can't make the blunder of picking hiking boots! In such a case, hand Patina boots or Oxford boots can be perfect choices.
Rule #2 – Pay attention to the type of trousers you're wearing
You don't go to the beach wearing a puffer jacket, so why would you want to wear an oddly matched pair of trousers and boots? It's important to realize that certain boots go well only with certain trousers. And knowing the right combinations matters a lot. 
Let go of the misconception that you can pull off any pair of boots with your jeans. You might love sporting your rugged jeans everywhere, but you seriously need to reconsider your choice of trousers if you're going to wear high-class boots. Experts recommend wearing Chelsea boots with jeans if you're heading to work. Another recommendation is a basic outfit consisting of dark blue slim-fit jeans, a t-shirt, and brown work boots (it looks fab, believe us!).
Next up, Chinos are preppy trousers that you can rock with leather boots. Another alternative that goes well with chinos is hiking boots. Whatever you choose, just remember to roll the chinos above a pair of heavy, woolen socks to show them off while walking. 
Finally coming to joggers – we know they're comfortable, inexpensive, and flexible, but the only boots that can make them stand out are Chukka boots. We suggest a suede Chukka to add texture and a sporty-look to your ensemble.
Rule #3 – Check your Trouser's length 
Just like different trousers suit different boots, the length of your pants also makes a difference to the boot you pick. It might seem minor to you, but the fact is that the point where the cuffs of your trousers sit can make or break your wardrobe. 
To emphasize your boots, go for smart pants with a marginally higher cuff across the ankle joint. Instead of taking them to a tailor, use a hemming web for a fast repair. Just like Chinos need to be rolled up to show off the boots, make sure to cuff your boots to the same length of the jeans to look unpolished rather than primped.
Rule #4 – Decide between Formal and Casual
Work boots have a casual appearance that works well in almost every environment. You may use them in social settings, business settings, and even on the street. Pairing these trendy boots with denims is a great way to wear them. We suggest you try the look to the office, casual hangouts with friends, or the church.
Men's blazer boots are fundamentally casual and wearing them to formal events will make you look odd. For any formal or professional events, avoid jeans and chinos. We recommend a neat tuxedo with brown or black Oxford boots. Believe us, the classic aura this outfit will emit is priceless. 
Biker boots are ideal for a night out at the pub, while combat boots are best for frequent outings. Also, you can try wearing winter boots while going to a night party, because they'll keep your feet warm while also making you look ultra-trendy!
Rule #5 – Select the right color
Yes, colors matter when it comes to picking boots! A good pair of black boots can be worn with anything (meaning you can think beyond a tailored suit or a tuxedo). Brown boots, on the other hand, add color without being extravagant, which isn't always easy to accomplish. Though black and brown boots are a fashion staple that everybody should have on hand, we want to keep your wheels spinning. 
Have you tried Tan boots? They'll undoubtedly complement all those neutral hues. And what about the Dark Green shade? Agreed, they may not be the first color that comes to mind when considering boot, but not everyone's wardrobe consist of only bright and light shade outfits, right? Try incorporating a dark-green pair of ankle boots with an all-black theme, it will make your outfit look alive like never before! 
To wrap things up
The reason why boots never disappoint is that they bring elegance to an otherwise uninteresting wardrobe. They're perfect for any weather and any outfit, and that's why they're a must-have addition to every man's wardrobe. 
So, whenever you feel confused just go through these rules and step-up your fashion game in style. Remember; never ever underestimate the power of shoes because they're what people notice first when you walk in. 
4 Responses
Leave a comment
Comments will be approved before showing up.